Why People Love Echelon Computers!
Always will take my stuff there. Great work they ressurected a laptop desktop replacement computer that crashed when bios driver was getting updated. They wiped windows 7 and installed windows 10 and backed up all my files as well. Saved me ~1500ish+ for a new computer, and have latest version of windows 10
Great experience with Echelon! When the Geek Squad couldn't fix a key on my keyboard, Echelon was able to help. They were very knowledgeable and informed me that I actually needed an entire new keyboard. After ordering the new one, it only took them 30 minutes to replace. Definitely recommend.
Our family has used Echelon Computer services for many years for both repair and purchase. I would highly recommend this company to anyone. Just purchased 2 used desktops to replace our old xp's and Blake did a great job of transferring all my files over to the new ones. I am very pleased. This afternoon he even helped me set up a very old printer remotely. Thank you Blake. It now works.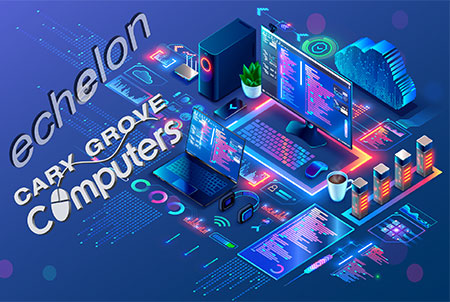 Ready for a computer upgrade? Come visit our store. Bring your current computer with you and we will gladly guide you through the process of upgrading your system or finding the perfect computer for you! We sell refurbished off-lease enterprise equipment at an excellent value. From Desktops to Laptops let us help you find your next computer!
Recently moved from Crystal Lake, Il to Cary Il., under our new name: Cary Grove Computers.
NEW LOCATION: 115 E. Main Street. Cary, IL 60013